Empowering growth and success for SMEs in the digital age.
Information and Communication Technology (ICT) is driving innovation and reshaping industries worldwide. Its seamless integration into SMEs is helping unlock growth and competitiveness, and revolutionising business in the 21st century.
ICT serves as the backbone of innovation, providing cutting-edge tools like cloud computing, data analytics, and artificial intelligence. It empowers businesses to streamline operations, optimise decision-making, and gain valuable insights into customer behaviour, fuelling continuous innovation.
However, while ICT presents immense opportunities, businesses must address challenges like cybersecurity and invest in technology infrastructure and employee training to stay competitive.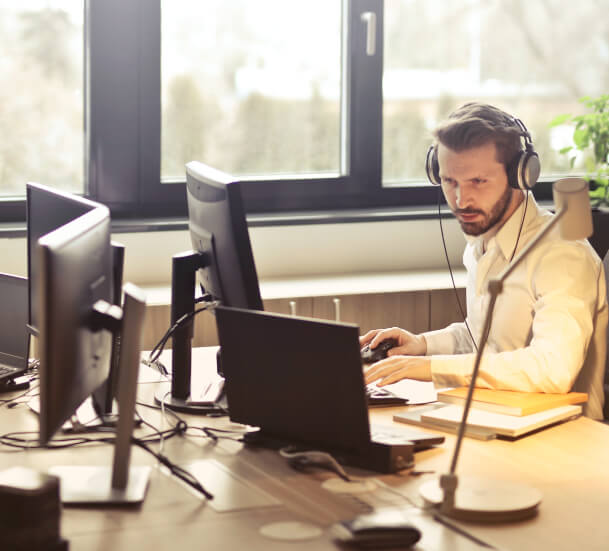 Enhancing Efficiency and Productivity
By enhancing efficiency and productivity through automation and collaborative tools, ICT accelerates the pace of innovation. It fosters creativity by enabling brainstorming, rapid prototyping, and virtual simulations, bringing novel solutions to the market faster. Speak to our Advisors to learn more about what it can do for your business, about opportunities for training and how best to adopt Cloud computing into your operations.
Personalisation and Customer-Centricity
By leveraging valuable customer insights, SMEs can deliver tailor-made experiences and services, enhancing customer loyalty and satisfaction. E-Factor offers support through its advisors, masterclasses and workshops to encourage the use of digital tools and automation, helping  businesses map out customer journeys and identify pain points and areas for improvement. 
Impact of Artificial Intelligence on SMEs
As Artificial Intelligence starts to impact on all aspects of our lives, SMEs will increasingly rely on the power AI brings to the processing of data in order to derive actionable results. This helps SMEs make informed decisions, identify trends, and understand customer behaviour better, leading to more targeted and personalised strategies.
Breaking Down Barriers: Global Connectivity
The digital revolution has broken down geographical barriers, enabling businesses to reach global markets like never before. ICT facilitates international trade, empowering businesses to tap into a vast customer base. Through e-commerce platforms and digital marketing, businesses can expand their reach to every corner of the world, creating diverse market opportunities and fuelling cross-cultural innovation.
Cybersecurity Challenges and Considerations
Cybersecurity is a critical concern for most SMEs who deal with sensitive data and face potential cyber threats. Robust data protection measures, employee training, and continuous monitoring are essential to safeguard business operations. Support is available through E-Factor to help you understand and address this crucial topic for your business.
Got a question? We're ready to help.